Innovation with "Something New, Something Old and Something Wonderful!"
Message from the CEO
We focus on our three most important core values: safety, customer satisfaction, and innovation. Safety is a fundamental prerequisite of any activity we undertake; customer satisfaction is our most important asset and key driver that provides us growth; Innovation will increase our efficiency not only in technology and productivity, also in our business solution.
Our goal is to make people happy; anyone who works for ICI, who purchases crankshafts from ICI, who drives a car equipped with ICI crankshaft, who does business with ICI and who lives in the same community with ICI. Our three core values guide us in our day-to-day activities; this is how we have grown and will create our business values with the sprits of "Something New, Something Old, Something Wonderful!"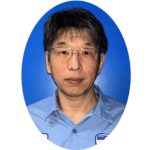 What is it like to work for ICI?
"ICI has given me many opportunities…"
-Wayne
What is the strength of ICI?
"Good management and customers being pleased with good qualities…"
-Joe